Haicam was the first to introduce end-to-end encryption (E2EE) into the home security industry in 2017.
Nobody can say privacy issue is not essential for a home security monitoring system. However, before Haicam used end-to-end encryption for security cameras, no security companies or camera manufacturers took care of this, which caused many home security cameras to be hacked each year. Even today, there is still very hard to find an end-to-end encryption security system provider in the market except Haicam.
Haicam's end-to-end encryption technologies use AES 128 as the encryption algorithms. So why do we use AES 128, not 256? The current recommendations of the BSI recommend 120 bits of security beyond 2022, and AES 128 is still in their recommendations. The reason we chose AES 128 is that that requires little CPU power even without hardware support, and almost any security camera chip can support it very well at the hardware level.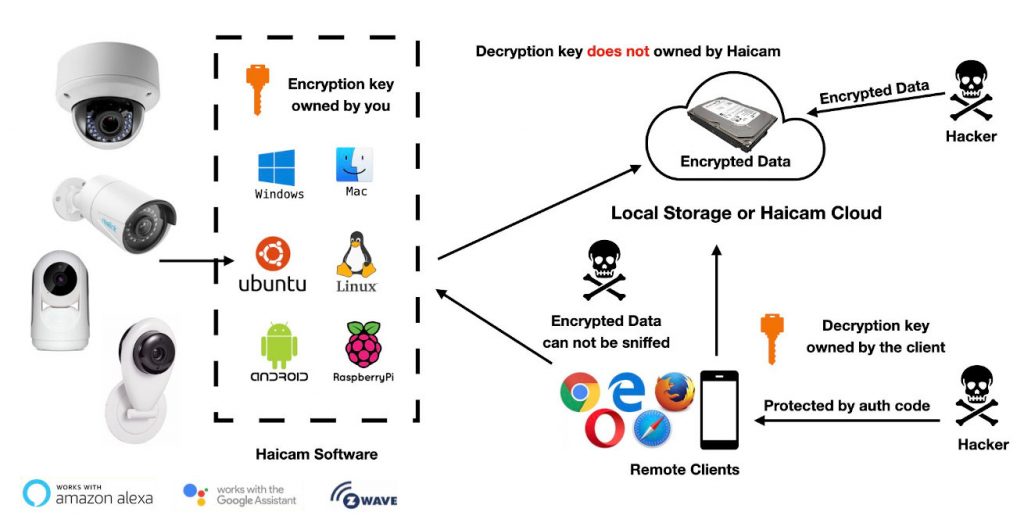 You will automatically assign one random authorization key when registering one account with Haicam's mobile app YouIPCams. The authorization key plays a crucial role in our end-to-end encryption system. This key is never sent to our cloud, and it is always allowed to transmit in your local network by UDP to TCP protocol. Therefore, it will never leave your private network.
Your actual AES 128 key is generated on your mobile phone locally when you create one account with Haicam. Then the app encrypted the AES key with the authorization key to saving in the cloud. This way, the encrypted AES key can be transmitted to your mobile device, Haicam camera and Haicam hub instance from the cloud. That is why the app will ask for your authorization key when you install the YouIPCams mobile app to a different mobile device, or the new device cannot decrypt your AES key. When you set up a new Haicam camera or Haicam hub instance, the authorization key will be sent to your mobile app's camera or hub instance by your local network.
That is why we require you to take a screenshot or write down the authorization key when you register one account. Once you lose it, you need to reset your Haicam camera or Haicam hub instance after creating a new authorization key. All of your video recorded in your local device or cloud will be non-decrypted and lost forever.
All video and audio data are encrypted with your AES key during transmission and stored in your local device or the cloud in an encrypted format. Nobody can decrypt it without your authorization key.
Haicam tries to give you peace of mind with our end-to-end encryption technologies.