How we can protect our personal data from being invaded by someone using our network without our knowledge.
You must have heard or read in the news about a security breach, data infringement, or invasion of privacy and this must have made you lose faith or insecure about applications, systems, or devices you have been using.
There can be multiple ways someone can access your device or network system without your knowledge.
Systems with outdated operating systems or software are highly vulnerable.
You are still using passwords that are easy to crack for an intruder.
You clicked on that button in a phishing email that has opened doors for malware to attack your entire network.
You have not installed antivirus software and downloaded files that the virus may have infected.
You allowed someone to access your computer or mobile to fix the problems you may be facing while using.
Hackers can easily attack unsecured network using software that can access control of your security system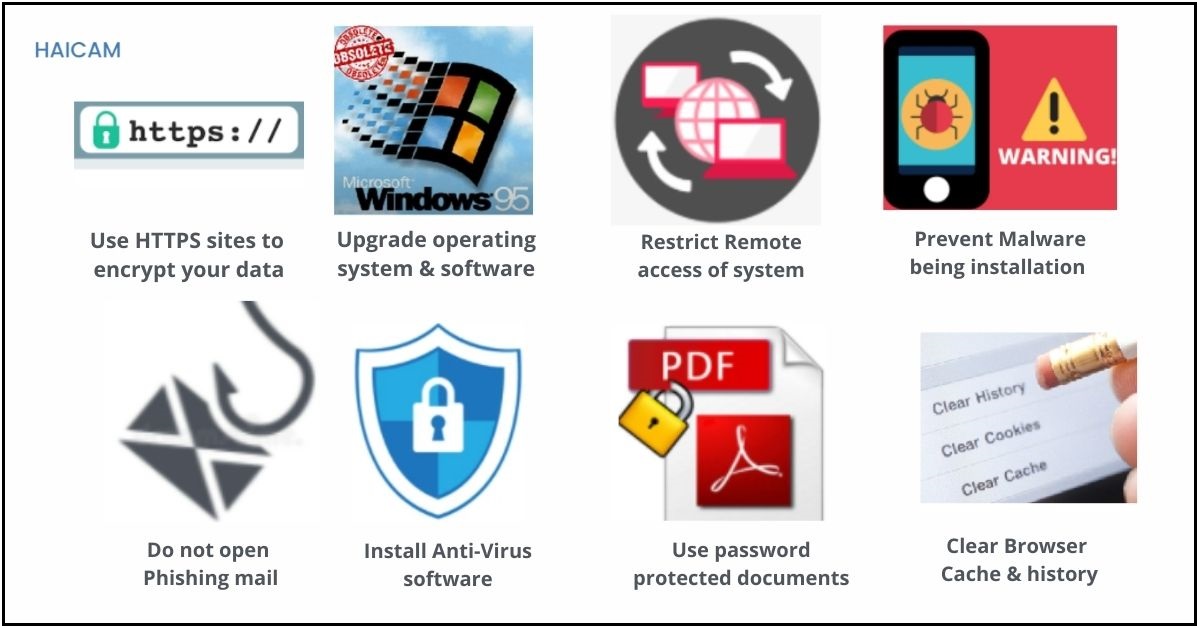 Precautions to protect your network
Keep your software and operating systems upgraded to the latest version.
There should not be a common password for all
Passwords should be a combination of symbols, numerals, and characters.
At regular intervals, change the passwords
Clear browser history and Log out from your accounts before leaving it unattended.
Delete all data from the hard drives of old mobile devices before you dump them.
Take a backup of your important files with sensitive information.
Install anti-virus and malware protection plan for your systems.
Always use HTTPS sites that encrypt your data to protect your privacy.
Do not open unsolicited emails and remain careful before clicking on links or attachments
Accept transaction account details in password-protected documents only.
Safeguard your important documents
Good, but do you know your CCTV cameras installed inside the rooms of your home or facilities are vulnerable as well.
Camfecting – an attempt to hack into a person's webcam and keep track of his activities or watch areas visible through the webcam without him knowing. The surveillance control system can be tampered with by sending trojan malware to control the system.
A well-known search software called Shodan can access anyone's webcam by paying nominal payment as registration fees.
However, there are ways to prevent camfecting and shodan by installing software like Process Explorer or Who follows my camera and removing programs that are suspected to be infected by using anti-spyware programs.
I would suggest installing Haicam end-to-end encryption hub/NVR software along with your surveillance system. You will have an authorisation key once you register with the Haicam mobile application YouIPCams.
All video, images, and audio data will be encrypted by the AES key created by the authorisation key during transmission and stored in encrypted format in your device or over to your cloud.
Only you with your authorisation keys can decrypt these data giving you peace of mind and a sense of privacy about your data. There are several reasons your CCTV camera can be accessed by someone without your knowledge, we have discussed in this article how to protect your network and cameras from others viewing it.
Conclusion
In this article, we discussed different reasons someone can access your network and device and what preventive measures we can take to protect our devices. Various malware software like Camfecting and Shodan can access our security system track our activities without our knowledge. Installing Haicam E2E encryption software will help encrypt your footage and allow only you to view it.